Firstly a Happy New Year to whoever is reading. May 2012 be a healthy and happy one.
We have already moved on from Christmas in this house with hubby's birthday yesterday. Here he is enjoying his birthday tapas on Monday with Alex who is next with her birthday on Monday!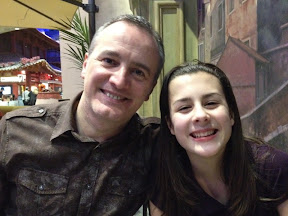 A quick post this week and a definitely messy desk. Working on one of the
4x6 photo love
challenges from August last year. I have done two sides but just trying to complete the third. Also working towards the stash busting I have committed to by using an old kit from December 2009.
On the left is also the Simple Recipes prompt from UKS this week which I am planning to tackle soon nad scattered around a whole host of embellies from which I need to choose something to finish my page!
If you want to check out more desks please pop over to The Stamping Ground for a look around.
- Posted using BlogPress from my iPhone