I dusted off my knitting needles last month. It all happened by accident as I was taking Alex to the local wool shop - which happens to be in a huge warehouse called
The Black Sheep
- to get her some wool to make a scarf. I then saw some gorgeous wool and decided to make a scarf which I have now finished. It's just waiting for a nip in the air for its first outing!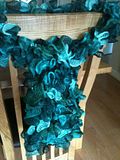 Whilst there I also picked up another lot of wool and a pattern to make Alex a waistcoat.
So far it looks like this...
I have finished the back and both fronts, just need to put it all together now and do the yoke! Have really enjoyed picking up my needles again :)