So this is the day that we all share what is on our desks. Thank you for the warm welcome to my first post last week. I did stop by a few desks but not enough so will make more effort this week.
These are not great photos tonight as it is dark and I have taken them on my iPhone for speed :) so apologies for the poor quality.
I have taken a larger picture of my desk after everyone commented last week how deep it was! Yes it is deep but there is still never enough room on it when I am in full scrapping mode lol!! This week I have my pile of
Pretty Paper Party
prompts on the right that I am still working through. Some photos and papers to do
a 4x6 Photo Love
page from September and in the background is a page Alex has been working on (that I had to move so I could get a look in!)
Alex's page which I think she has finished....
The papers, photos and acetate I want to use for the 4x6 layout. The pictures are from Alex's birthday party in 2010 when she had a jewellery party. This sketch uses 10 6x4 pics!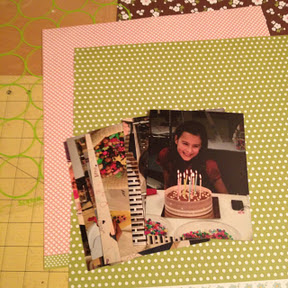 Not sure when I will actually get to cut in to the papers as this week is prooving rather busy. The desk may look the same next week!
Thanks for stopping by and if you wish to see more desks please stop by
Julia's
blog.
- Posted using BlogPress from my iPhone