Today is the start of Shimelle's new course "Cover to Cover". Having been at work all day I rushed home to check my emails to see what lay in store! But, oh no! What's this? Shimelle has set us home work! So being the studious, conscientious girl that I am I have cracked on with mine already!!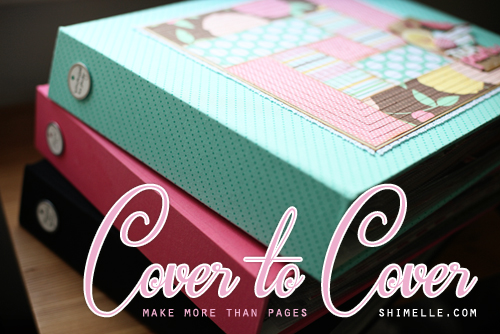 1. If you have a system for your photos, pages and albums, how would you describe it? What does and
doesn't work as well as you would like?
I guess my main dilemma is the "does it go in his, hers or ours?" dilemma. Having one boy and one girl I decided early on they could have an album each where I scrap photos of just them or events that were peraonal to them but then what do I do with the photos where I'm in there too, or Tony is or all four of us? So the rest go in our "family" album. Now I'm thinking about this I'm not sure it's right. Am I going to pack each child off with their personal scrapbook when they leave home and keep the family one? I doubt it. Maybe the layouts should be in yearly albums as per the system Shimelle uses. And then there are my pages, personal thoughts and whimsical quotes, where do they go? And what if I've scrapped a photo from a couple of months back of Alex with a quote or story that's just happened? Where does that go? Hmmm...This homework is making my head hurt lol!
2. If you don't have a system, consider my system as a rough draft. What things do you already think
you would not want in your own system? What elements seem perfectly sensible for you?
I really like Shimelle's system and can see it working for me. I definitely need to get my pages in chronological order. Whilst they are divided into albums (although maybe not the right ones now I've started to really consider it!) they are in them in a very hap hazard fashion. As for upgrading to another album for a specific event in that year, that makes total sense to me. So far I have only done this for our holiday to Florida, which was one where we took 100's of photos, but I can see that working for other events.
3.Take a photo that helps describe your current status with scrapbooking. You might have dozens and
dozens of albums. You might have two. You might be completely happy with your albums. You
might have a big stack and no books or ideas on where things should go. Share your photo (and
more details if you would like) with us either by posting on the forum or writing a blog post. Of
course, you can keep your answer to yourself if you prefer! But I promise we're a nice group that
shares well with others.
Below is a photo of my American Craft albums. I also have some post bound ones with older lay outs in and will move pages out of these as I buy more albums. (If anyone knows of any bargain AC albums for sale anywhere please comment below lol!) I've started to buy the albums that can be altered recently as these are great value for money and can be decorated to your hearts desire! That reminds me of one more question. What do you put in the windows on the fronts of these albums? I have left my blank so far but would love some ideas from others - do you put a title? A favourite photo? Some pretty paper and embellishments? Oh, the possibilities!
I hope some of these questions will be answered over the next few weeks doing this class. If you're taking it too I'd love to hear from you (and I hope you've done your homework!)
Thanks for stopping by.
- Posted using BlogPress from my iPhone